About Atal Tunnel
Highway tunnel built under the Rohtang Pass in the eastern Pir Panjal range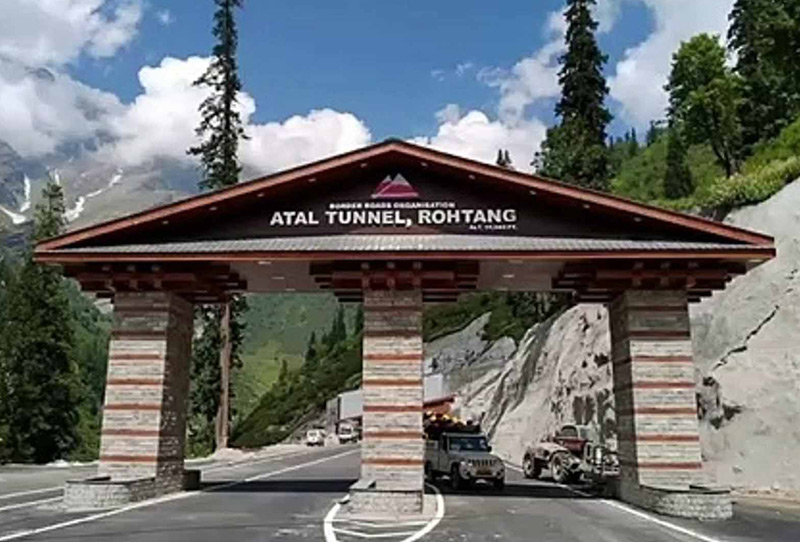 longest highway single-tube tunnel above 10,000 feet
An Engineering Marvel in The
Himalayas
The most challenging task was to continue the excavation during heavy snowfall in winter. Excavation for tunnelling was done from both ends. However, as Rohtang pass closes during the winter, the north portal was not accessible during winter and the excavation was being done only from the south portal in winters. Only about one-fourth of the entire tunnel was excavated from the north end and three-fourths was excavated from the south end. There were more than 46 avalanche sites on approaches to the tunnel.
Length: 9.02 km (5.6 mi)
Shape (cross-section) of Tunnel: Horseshoe.
Finished width: 10.00 m (32.8 ft) at road level. (8m pavement and 1m footpath on both sides).
General altitude of the tunnel: 3,000–3,100 m or 9,840–10,170 ft
More
Near By Attractions
A large number of tourists visits Ladakh via this highway. After completing Atal Tunnel tour, tourists can either come back to Manali from the same road via Dhundi and Solang valley, or they can go to visit Rohtang pass and then come back to Manali via Marhi, Gulaba and Kothi.
Public Transport
The Atal Tunnel is accessible to all publics on public transport and cars.
BY CAR

If you want to come to the Atal Tunnel you will encounter mesmerizing beauty of Pir Panjal ranges of Himalayas and a thrilling driving experience. Make sure you are well trained in hill driving and comfortable in negotiating the narrow lanes

BY TRAIN

Joginder Nagar is the nearest railway station from Manali. However it will be convienent to Come to Una which is connected with new Delhi. The onward journey can be done by booking Cab or HRTC bus

BY Taxi

One can always book the taxi as per the plan. Please note that Manali taxi rates depend highly on the month of your travel. During the peak tourist season, as the demand for taxis goes up, these per-day charges can sky rocket all of a sudden. Another thing to note is that there is no such thing as "fixed rates" in Manali. It all depends on the season, demand, and your own negotiation skills.

BY AIR

The nearest airport to Manali is Kullu Manali Airport, located approximately 50 kms away from Manali, in Bhuntar (Distt. Kullu). Domestic flights from Delhi and Chandigarh are directly connected with this airport. The chief operating airline companies are Air India, IndiGo and SpiceJet. The prepaid taxis outside the airport can be availed to get transferred to the main town of Manali from Bhuntar. The Chandigarh International Airport is also one of the nearest airports to Manali. It only takes 6 to 9 hours to reach Manali from Chandigarh by taxi. The major airlines operating in this airport are IndiGo, Jet Airways, SpiceJet AirAsia India, GoAir, Air India and Vistara.
Location
The South Portal (SP) of Atal Tunnel is located at a distance of 25 km from Manali at an altitude of 3,060 metres, while the North Portal (NP) of the tunnel is located near village Teling, Sissu, in Lahaul Valley at an altitude of 3,071 Metres.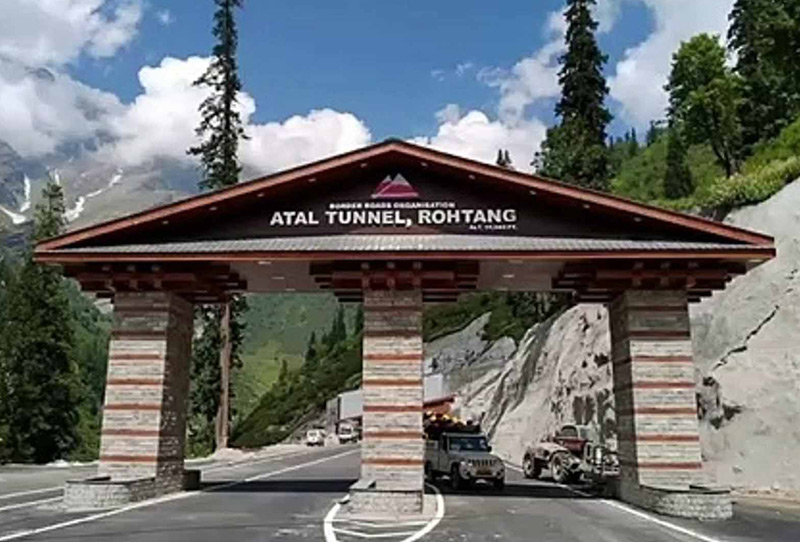 VIDEO PRESENTATION
Atal Tunnel (also known as Rohtang Tunnel) is a highway tunnel built under the Rohtang Pass in the eastern Pir Panjal range of the Himalayas on the Leh-Manali Highway in Himachal Pradesh, India.At a length of 9.02 km, it is the longest highway single-tube tunnel above 10,000 feet (3,048 m) in the world when completed and is named after former Prime Minister of India, Atal Bihari Vajpayee.
Youtube Chanel